Demolition End Dump Trailers
End Dumps Reliance Product built by ACE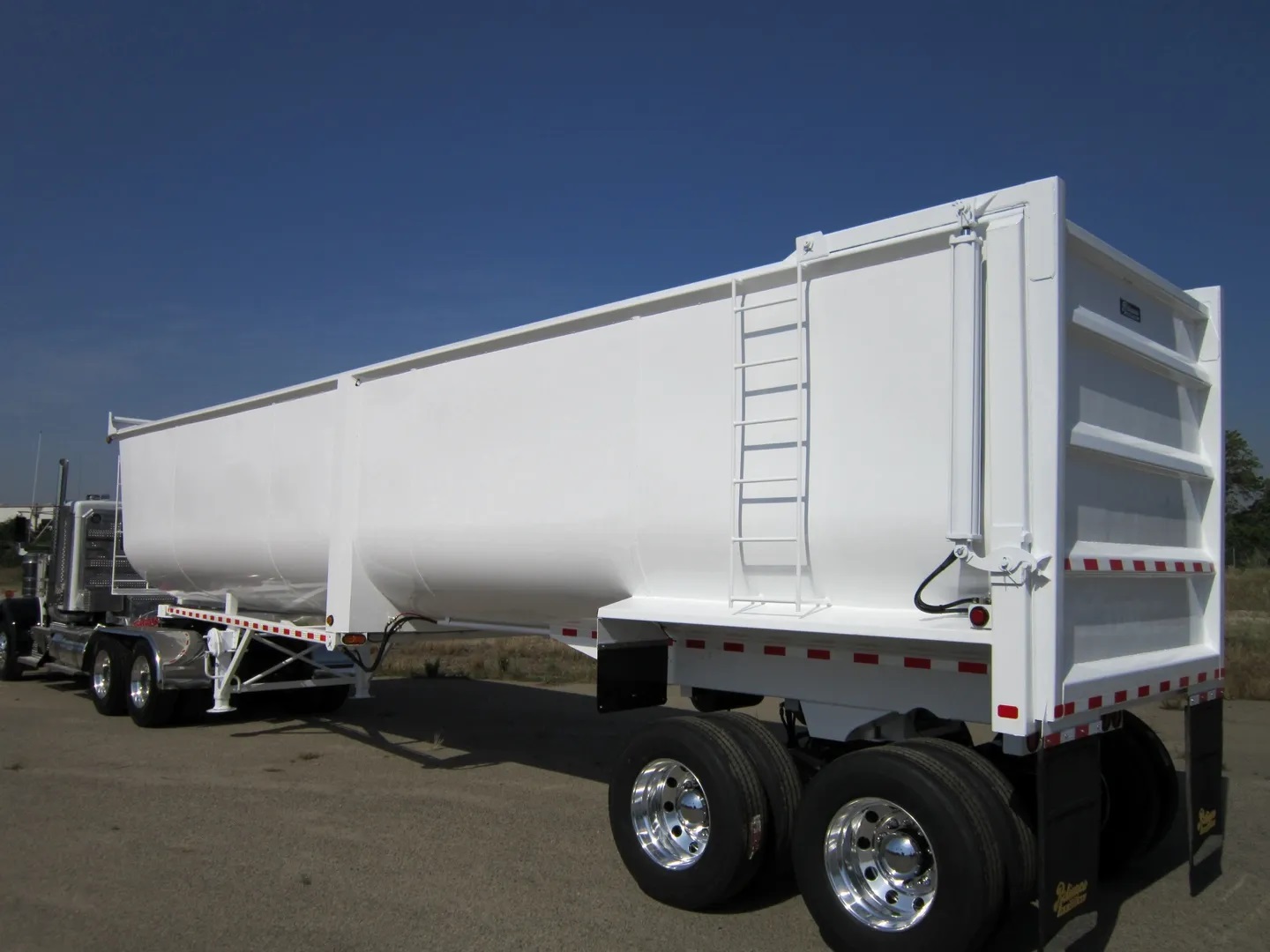 End Dumps Reliance Product Built By ACE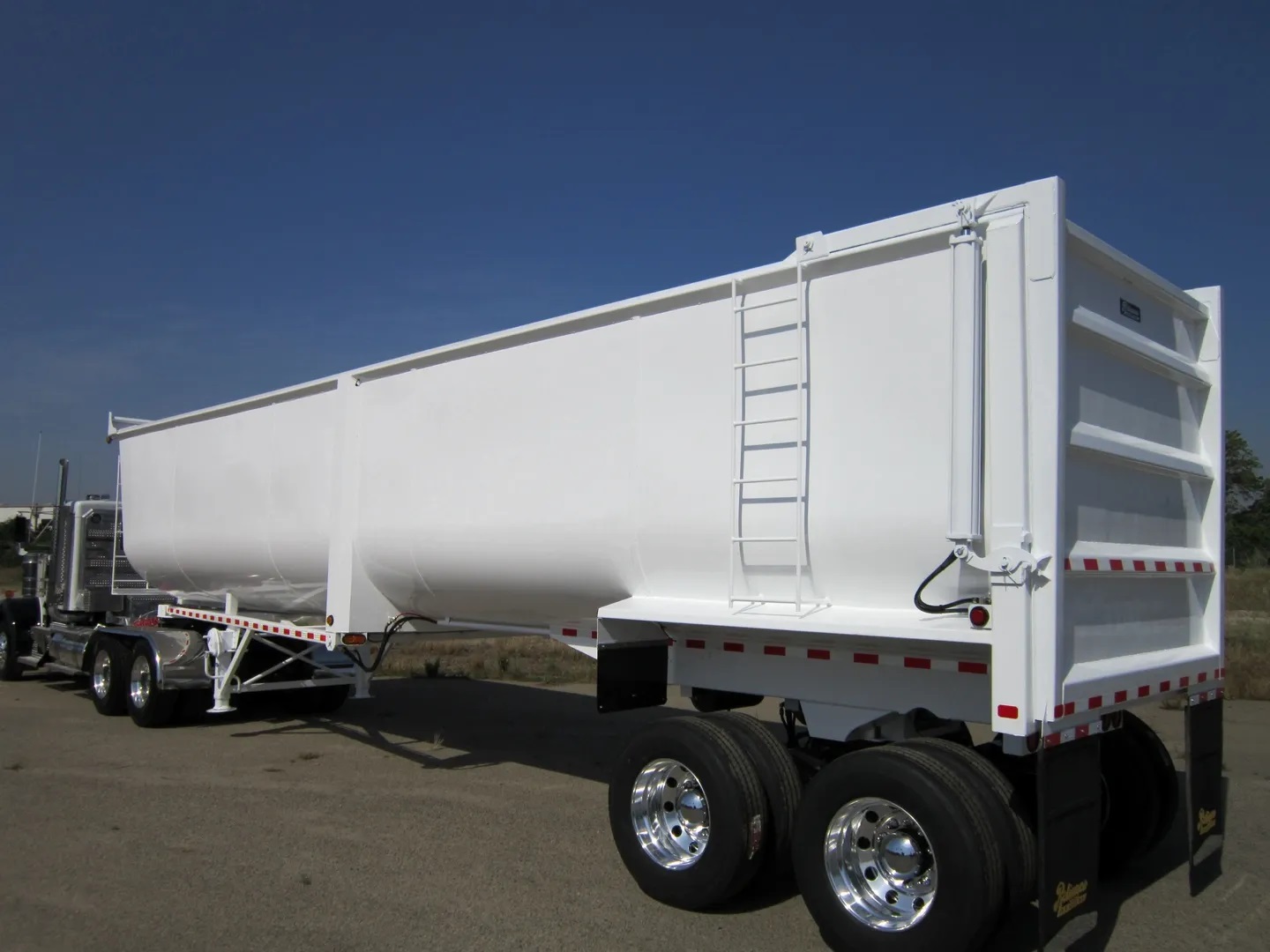 Double Box Roll-Off Semi Trailer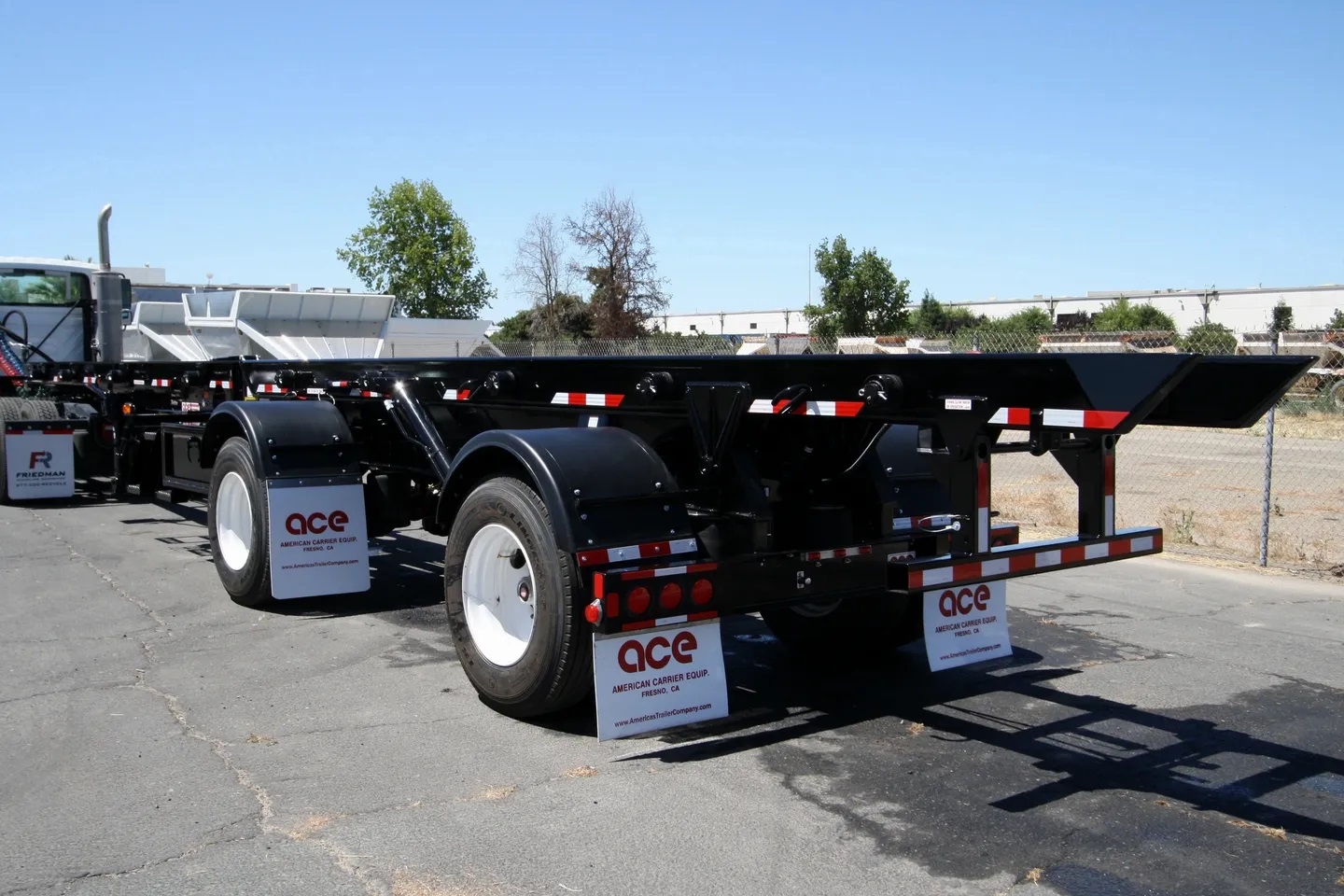 Double Box Roll-Off Semi Trailer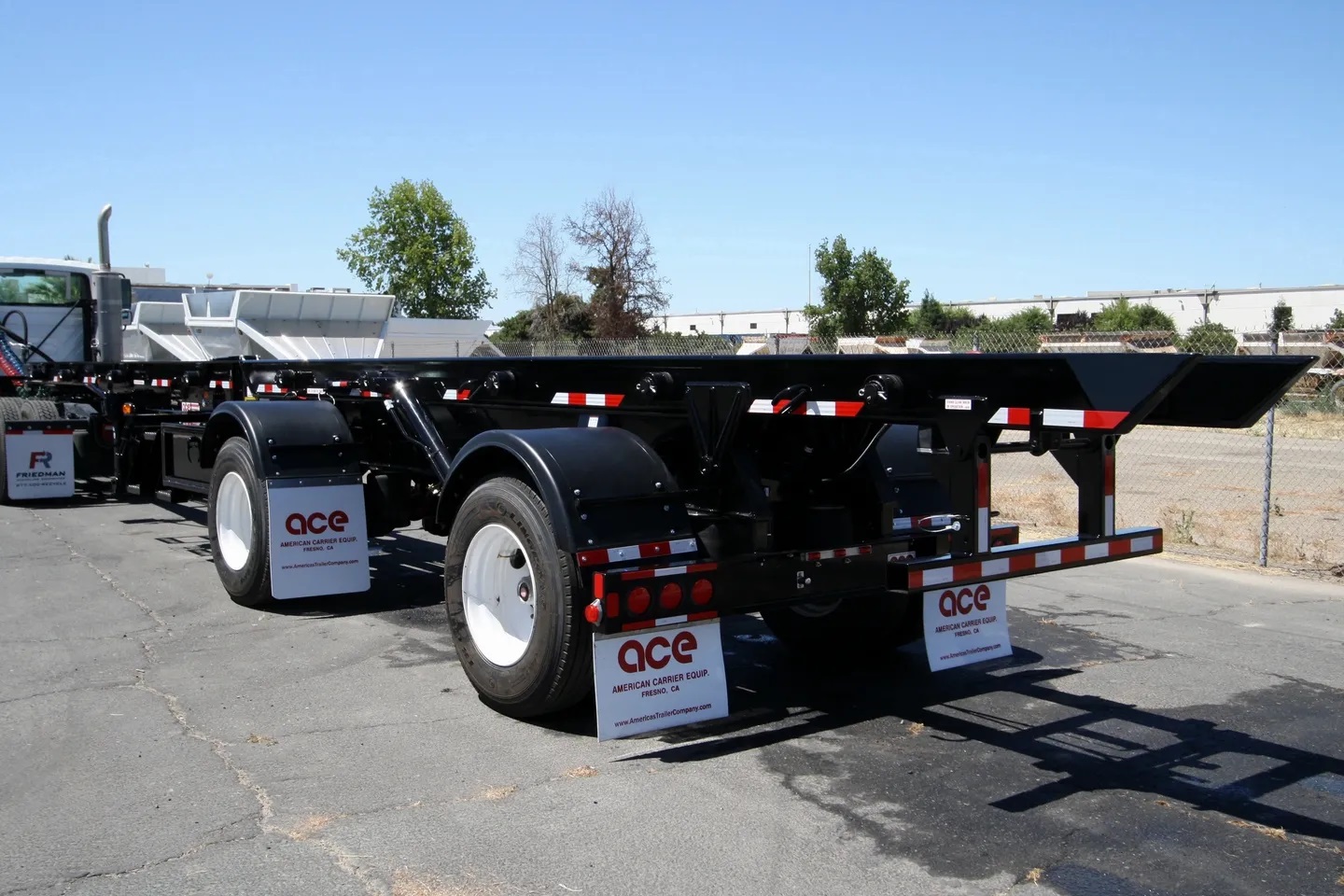 | | |
| --- | --- |
| FRAME: | 48' 0" overall |
| WIDTH: | 34" frame width and 96" overall width |
| BODY STOPS: | (1) set of removable body stops and (1) set of the removable body stops at the format of the trailer |
| MAIN BEAMS: | I-beam construction with 5/8" x 4" top and bottom flanges, 5mm thick high-tensile web sections. All of the steel is high strength with a minimum yield of 60,000 psi |
| CROSS MEMBERS: | Fabricated members bolted into the mainframe |
| HOIST TUBE: | 4" x 10" x 3/8" steel tuber 25' long |
| ROLLERS: | (5) 5" diameter rollers on each side with solid high strength steel roller shafts |
| HOIST CYLINDERS: | (2) 5.5" diameter, single-stage, double-acting, hoist cylinders with 3" solid shafts and solid high strength steel cylinder pivot shafts |
| HOIST SYSTEM: | 60,000 lbs. capacity revere system with (2) 5.5" dia. cylinders and a 3/4" stranded cable |
| CONTROL VALVE: | Hydraulic valve with (2) spools, manually operated |
| TRANSFER CHAIN: | (1) 39,000 lbs. capacity transfer chain in the from section of the frame |
| SUPPORT LEGS: | 2-speed 120,000 lbs. capacity with cushion shoes and the crank of the curbside |
| SUSPENSION: | Silent-drive widespread tandem air suspension with the front axle liftable but not steerable spread 10' 2" center to center |
| AXLES: | (2) 5" dia. axles with 71.5" track, 25,000 lbs. capacity for the hub pilot system |
| HUBS: | Lightweight steel for the outboard mounted drums, 10 studs for the hub pilot system |
| DRUMS: | 16.5" x 7" centrifuse outboard mounted |
| TIRES: | (8) 11R 22.5 highway tread 14 ply |
| WHEELS: | (8) 22.5 x 8.25 steel disc wheels for hub pilot system |
| FENDERS: | High impact plastic over the tires |
| LIGHTS AND WIRING: | FMVSS 108, 12-volt system, LED lights, sealed harness |
| FRAME: | 48' 0" overall |
| BRAKE SYSTEM: | FMVSS 121, anti-skid brakes |
| BRAKE RELEASE: | (1) brake release near the hydraulic controls |
| TOOLBOX: | (1) 18" x 24" x 48" steel |
| STRAPS: | (2) 4" x 30' nylon straps |
| BINDER / HOOK: | (3) ratchet binders and (3) hooks for load tie-downs |
| PAINT: | White polyurethane enamel |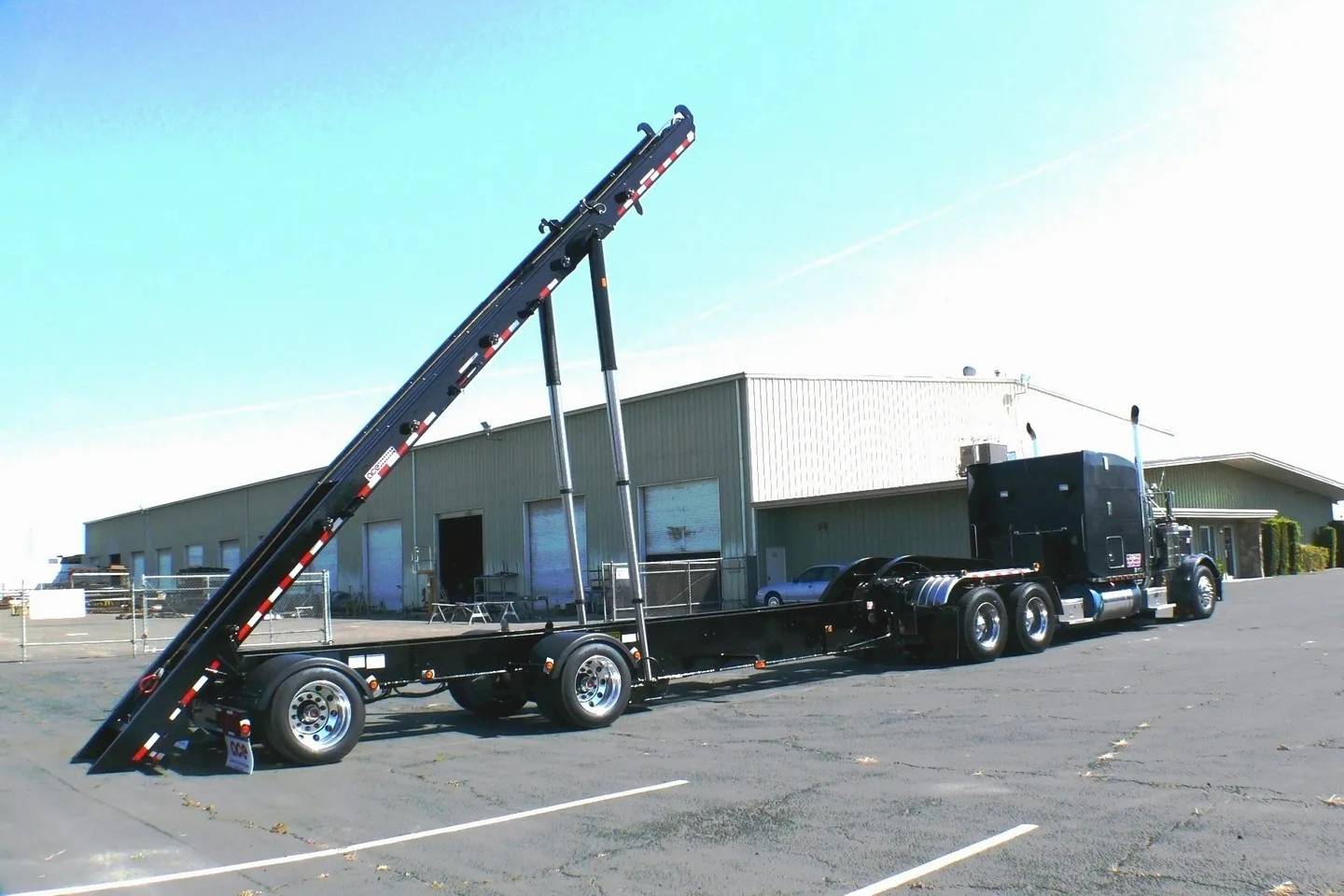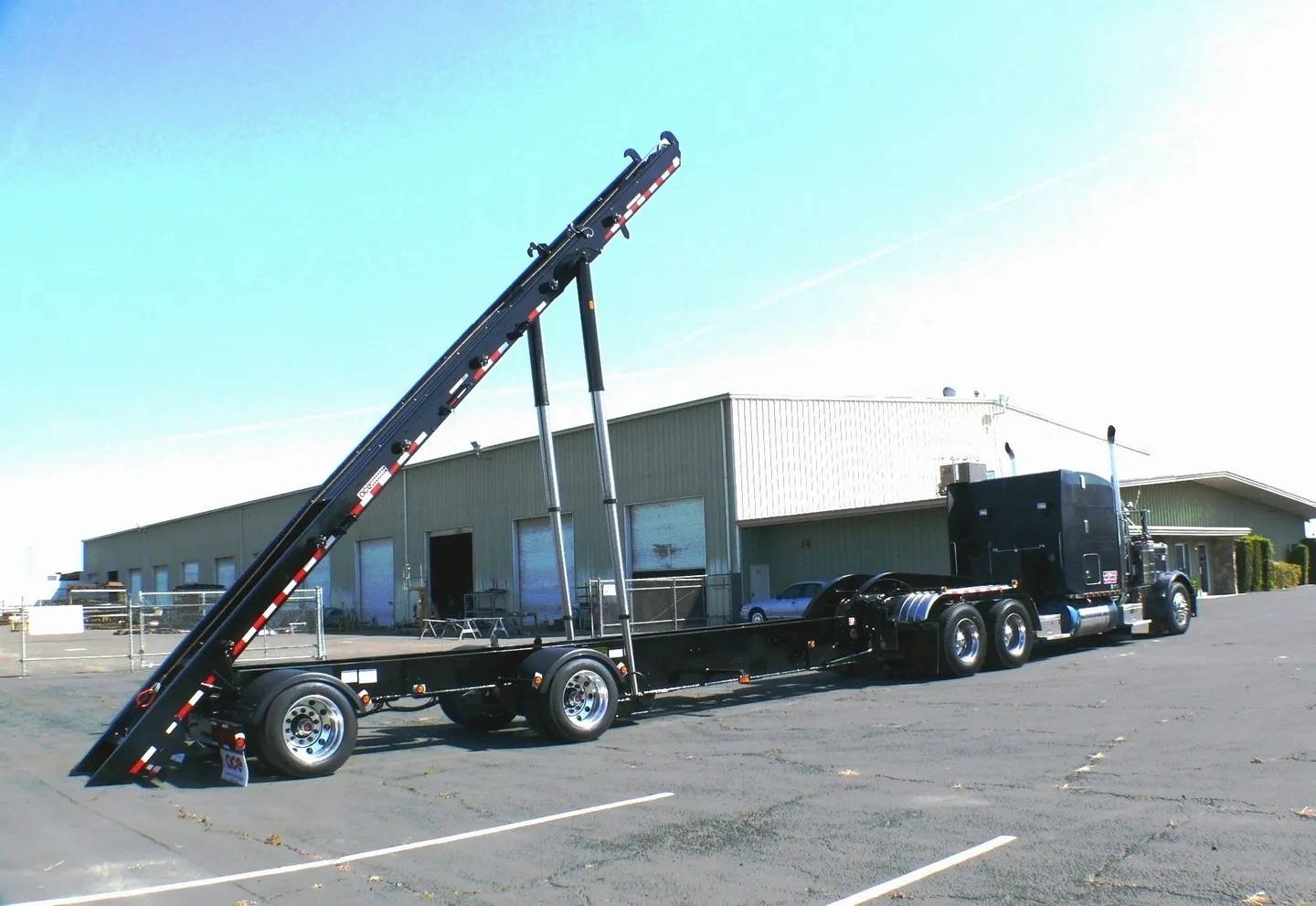 | | |
| --- | --- |
| FRAME: | 48' 0" overall |
| WIDTH: | 34" frame width and 96" overall width |
| BODY STOPS: | (1) set of removable body stops and (1) set of the removable body stops at the format of the trailer |
| MAIN BEAMS: | I-beam construction with 5/8" x 4" top and bottom flanges, 5mm thick high-tensile web sections. All of the steel is high strength with a minimum yield of 60,000 psi |
| CROSS MEMBERS: | Fabricated members bolted into the mainframe |
| HOIST TUBE: | 4" x 10" x 3/8" steel tuber 25' long |
| ROLLERS: | (5) 5" diameter rollers on each side with solid high strength steel roller shafts |
| HOIST CYLINDERS: | (2) 5.5" diameter, single-stage, double-acting, hoist cylinders with 3" solid shafts and solid high strength steel cylinder pivot shafts |
| HOIST SYSTEM: | 60,000 lbs. capacity reever system with (2) 5.5" dia. cylinders and a 3/4" stranded cable |
| CONTROL VALVE: | Hydraulic valve with (2) spools, manually operated |
| TRANSFER CHAIN: | (1) 39,000 lbs. capacity transfer chain in the front section of the frame |
| SUPPORT LEGS: | 2-speed 120,000 lbs. capacity with cushion shoes and the crank of the curbside |
| SUSPENSION: | Silent-drive widespread tandem air suspension with the front axle liftable but not steerable spread 10' 2" center to center |
| AXLES: | (2) 5" dia. axles with 71.5" track, 25,000 lbs. capacity for the hub pilot system |
| HUBS: | Lightweight steel for the outboard mounted drums, 10 studs for the hub pilot system |
| DRUMS: | 16.5" x 7" centrifuse outboard mounted |
| TIRES: | (8) 11R 22.5 highway |
| WHEELS: | (8) 22.5 x 8.25 steel disc wheels for hub pilot system |
| FENDERS: | High impact plastic over the tires |
| LIGHTS AND WIRING: | FMVSS 108, 12-volt system, LED lights, sealed harness |
| FRAME: | 48' 0" overall |
| BRAKE SYSTEM: | FMVSS 121, anti-skid brakes |
| BRAKE RELEASE: | (1) brake release near the hydraulic controls |
| TOOLBOX: | (1) 18" x 24" x 48" steel |
| STRAPS: | (2) 4" x 30' nylon straps |
| BINDER / HOOK: | (3) ratchet binders and (3) hooks for load tie-downs |
| PAINT: | White polyurethane enamel |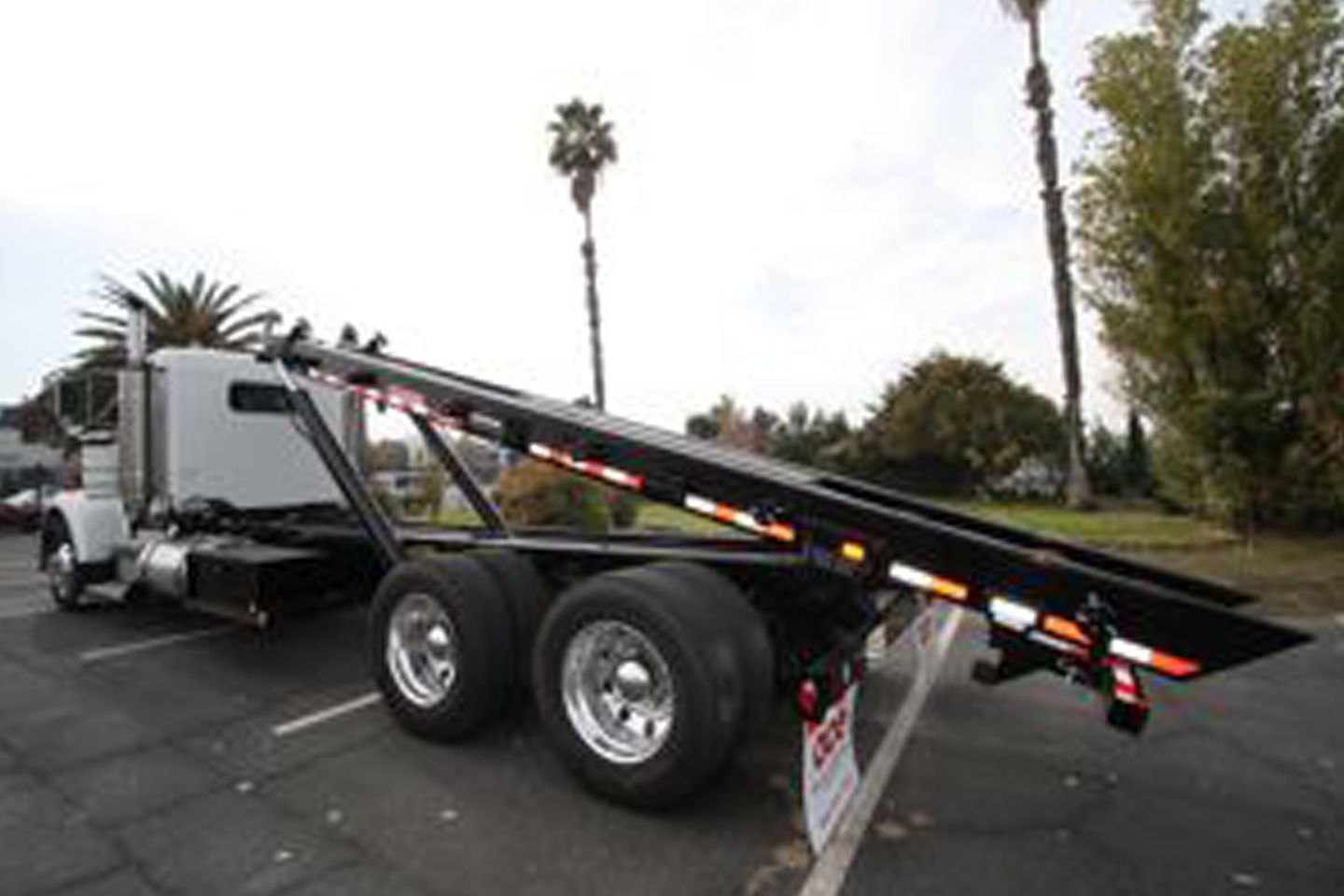 | | |
| --- | --- |
| BOOM TUBE: | 4" X 12" x 3/8" ASTM A500 Grade B steel boom tube 24'-0" long |
| FRAME REINFORCEMENT: | ¼" steel frame reinforcement 120" long on each side |
| ROLLERS: | (5) 5" diameter rollers on each side |
| ROLLER SHAFTS: | Solid high strength steel roller shafts |
| PIVOT SHAFTS: | Solid high strength steel cylinder pivot shafts |
| LIFT CYLINDERS: | (2) 5.5" diameter, single stage, double acting with 3" solid shafts |
| REEVER CYLINDERS: | (2) 5.5" diameter, single stage, double acting with 3" solid shafts |
| REEVER CABLE: | ¾" stranded steel cable |
| CONTROL VALVE: | (2) spools, manually operated |
| REAR LIGHT BAR: | LED (4) red stop/tail and turn signals |
| BODY STOPS: | Included |
| HYDRAULIC TANK: | 40 gallon, steel, with breather, thermometer and sight gauge, 3000 psi hoses |
| HYDRAULIC PUMP: | 28-30 GPM |
| FENDERS: | Optional |
| CAB CONTROLS: | Optional |
| PTO: | Air shift |
| TARP SYSTEM: | Optional |
| TOOLBOX: | 18" x 24" x 48" steel |
| PAINT: | Black polyurethane enamel |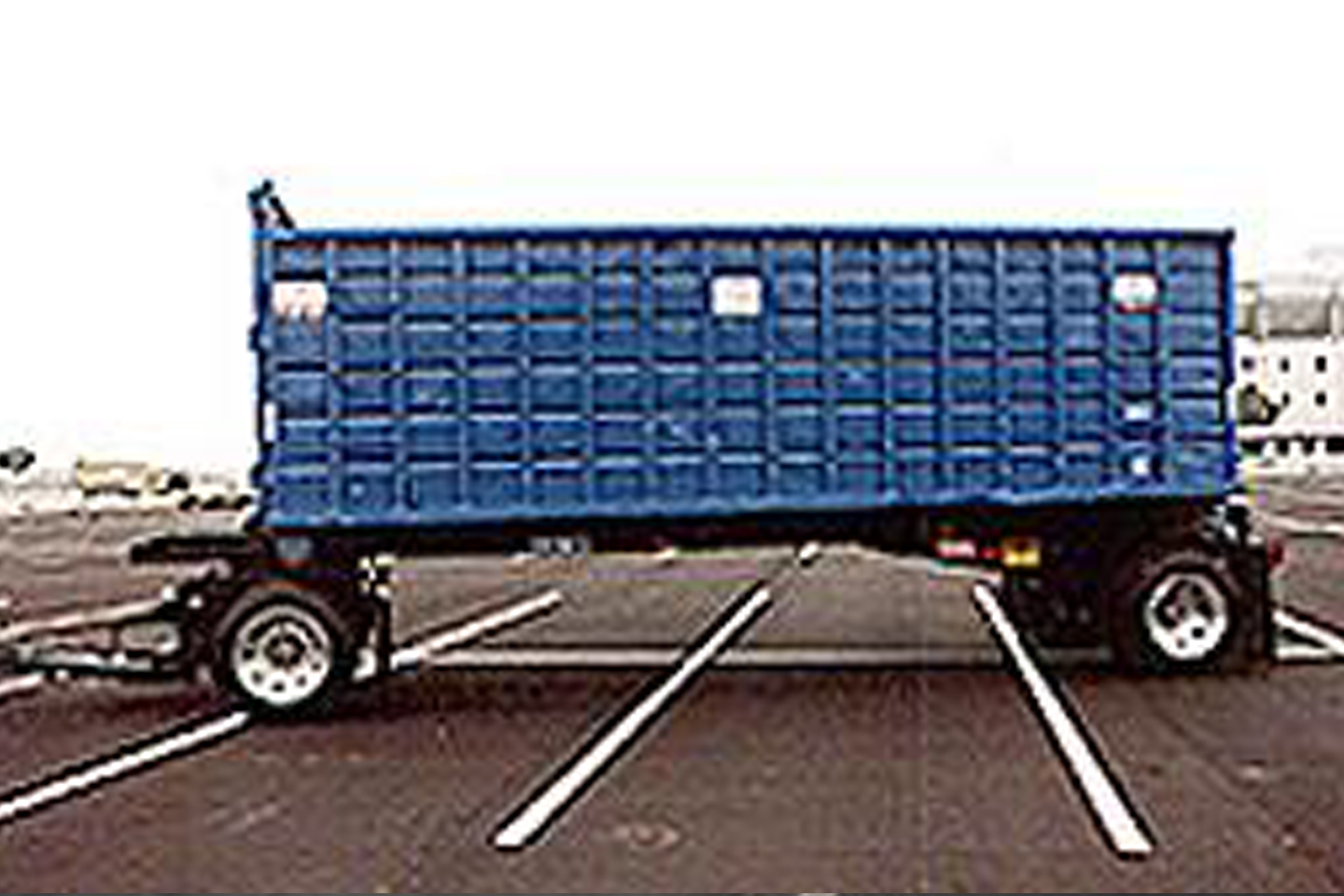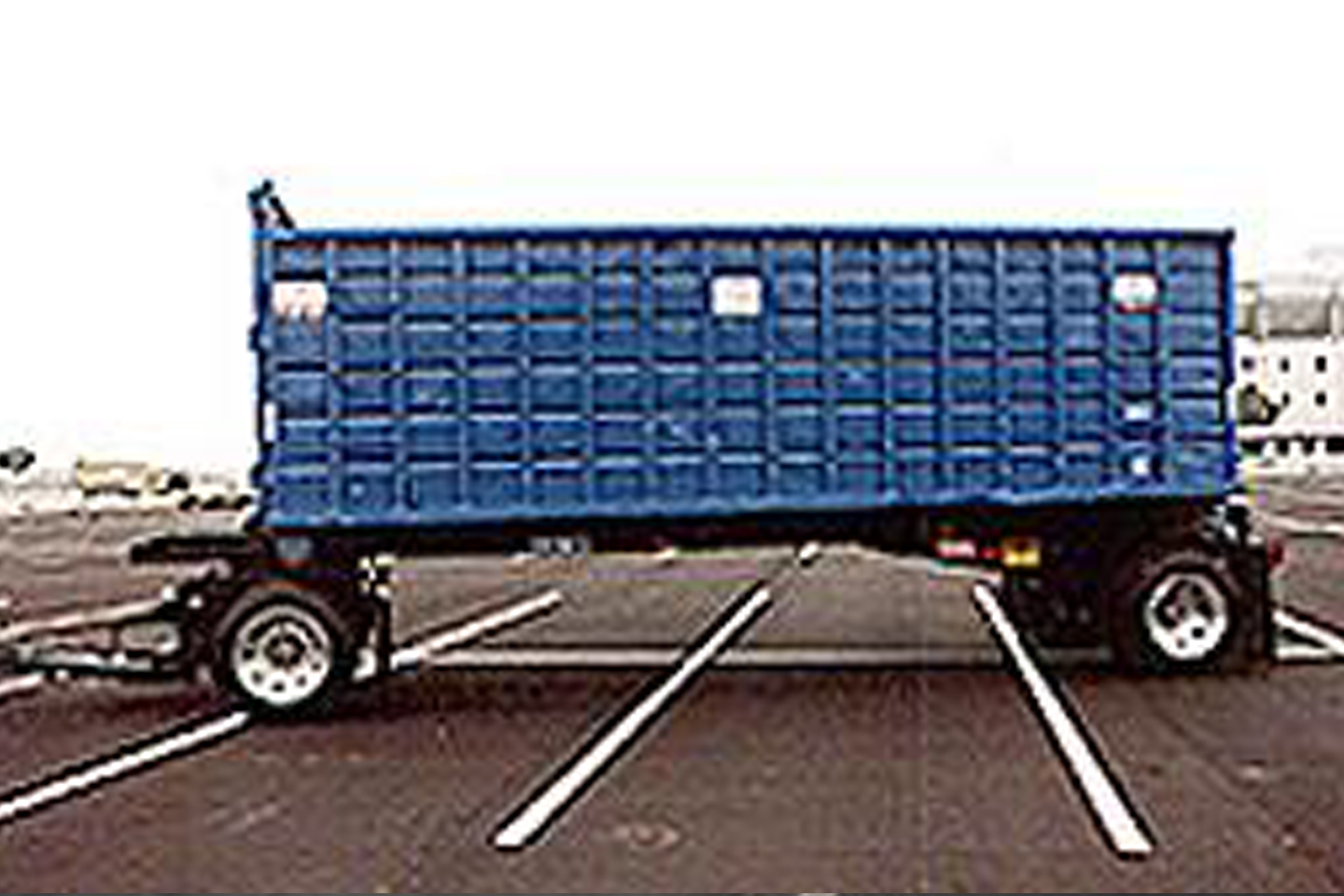 | | |
| --- | --- |
| LENGTH:/b> | 25'-0" |
| WIDTH: | 96" overall width |
| HEIGHT: | 53" ground to the top of the rails |
| WEIGHT: | 7,800 lbs. +/-3% |
| CAPACITY: | 40,000 lbs. evenly distributed |
| DRAWBAR: | 10'-0" hinge to eye with air assisted lift |
| WINCH: | 20,000 lbs. capacity with a 5/8" cable |
| LOAD BINDER: | (1) ratchet type strap binder |
| TURNTABLE: | 20,000 lbs. capacity ball bearing turntable |
| BRAKE RELEASE: | Spring brake release valve on the gear frame |
| BRAKES: | FMVSS121 with the anti-skid brake system |
| LIGHTS AND WIRING: | FMVSS108 with a sealed harness and LED lights |
| MAIN BEAM: | 8" x 4" x 3/8" ASTM A500 Grade B structural tube |
| ROLLERS: | (5) 5" diameter rollers on each side |
| ROLLER SHAFTS: | Solid high strength steel |
| BODY STOPS: | (1) set of adjustable stops with quick release pin |
| AXLES: | (2) 5" diameter 71.5" track 22,500 lbs. capacity |
| HUBS: | Cast steel for outboard mounted drums |
| DRUMS: | 16.5 x 7 outboard mounted drums |
| WHEELS: | (8) 22.5 x 8.25 steel disc for hub pilot system |
| TIRES: | (8) 11R22.5 Highway tread 14 ply |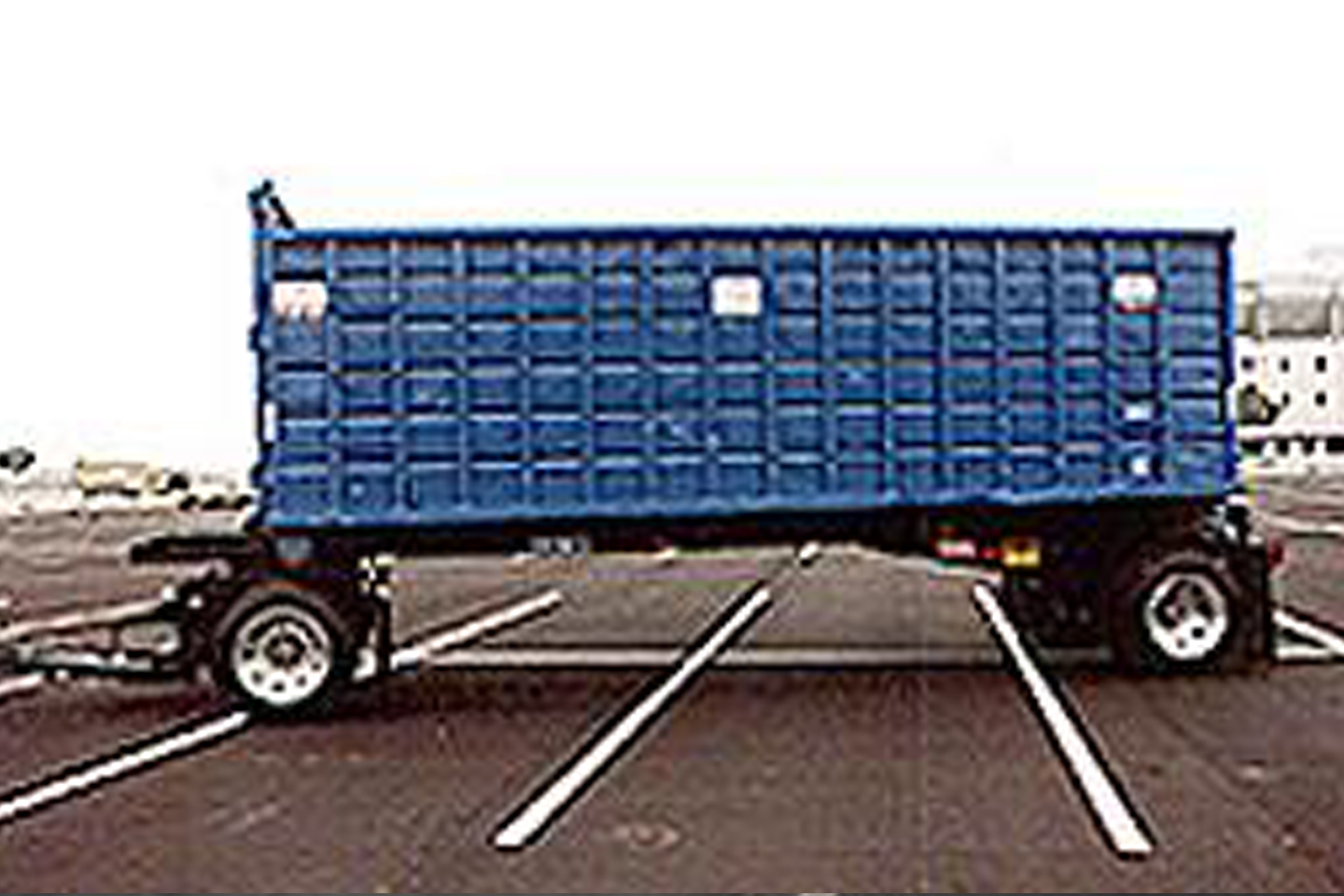 Solid Waste Transfer Trailers
All Steel Green Waste Trailer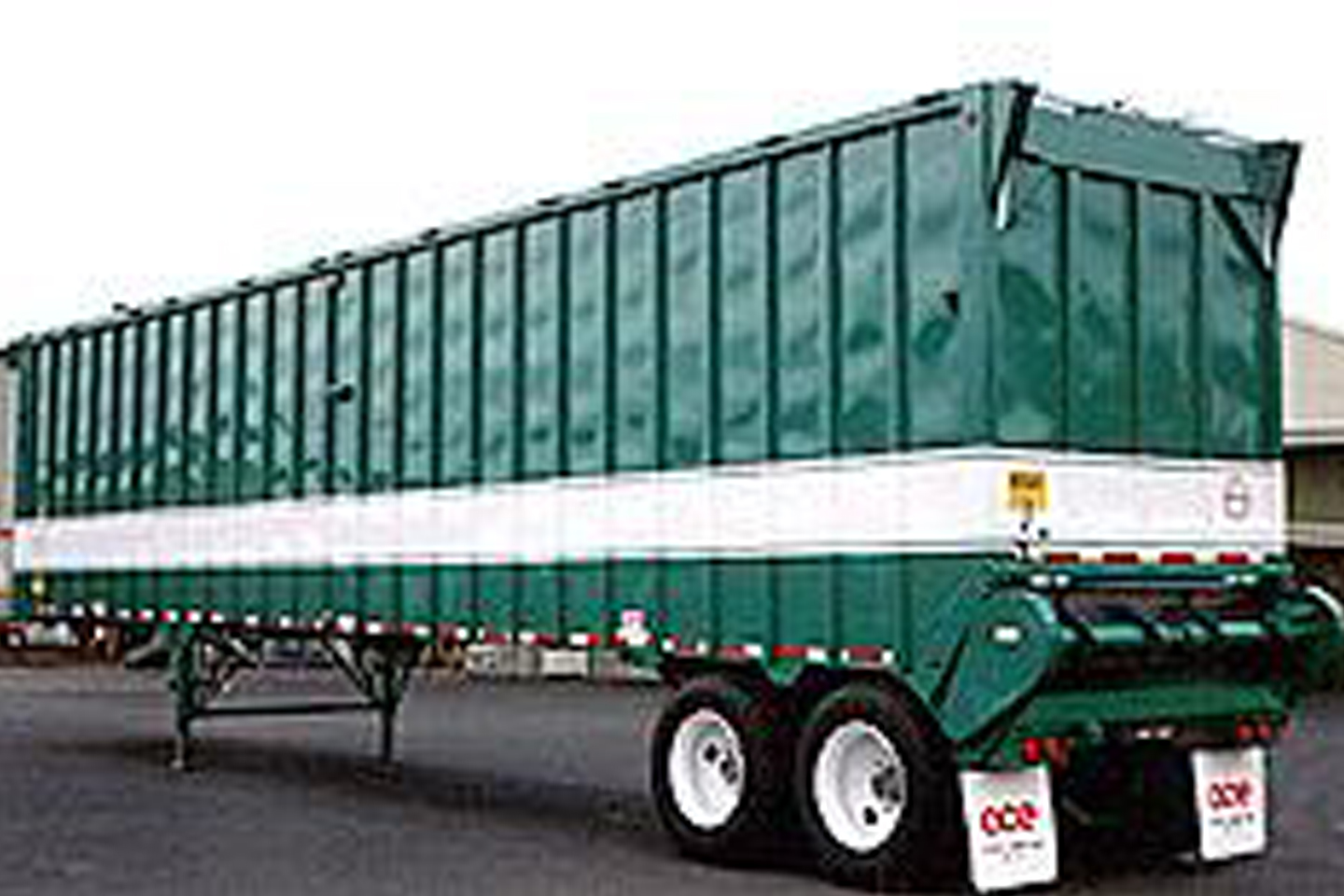 All Steel Green Waste Trailer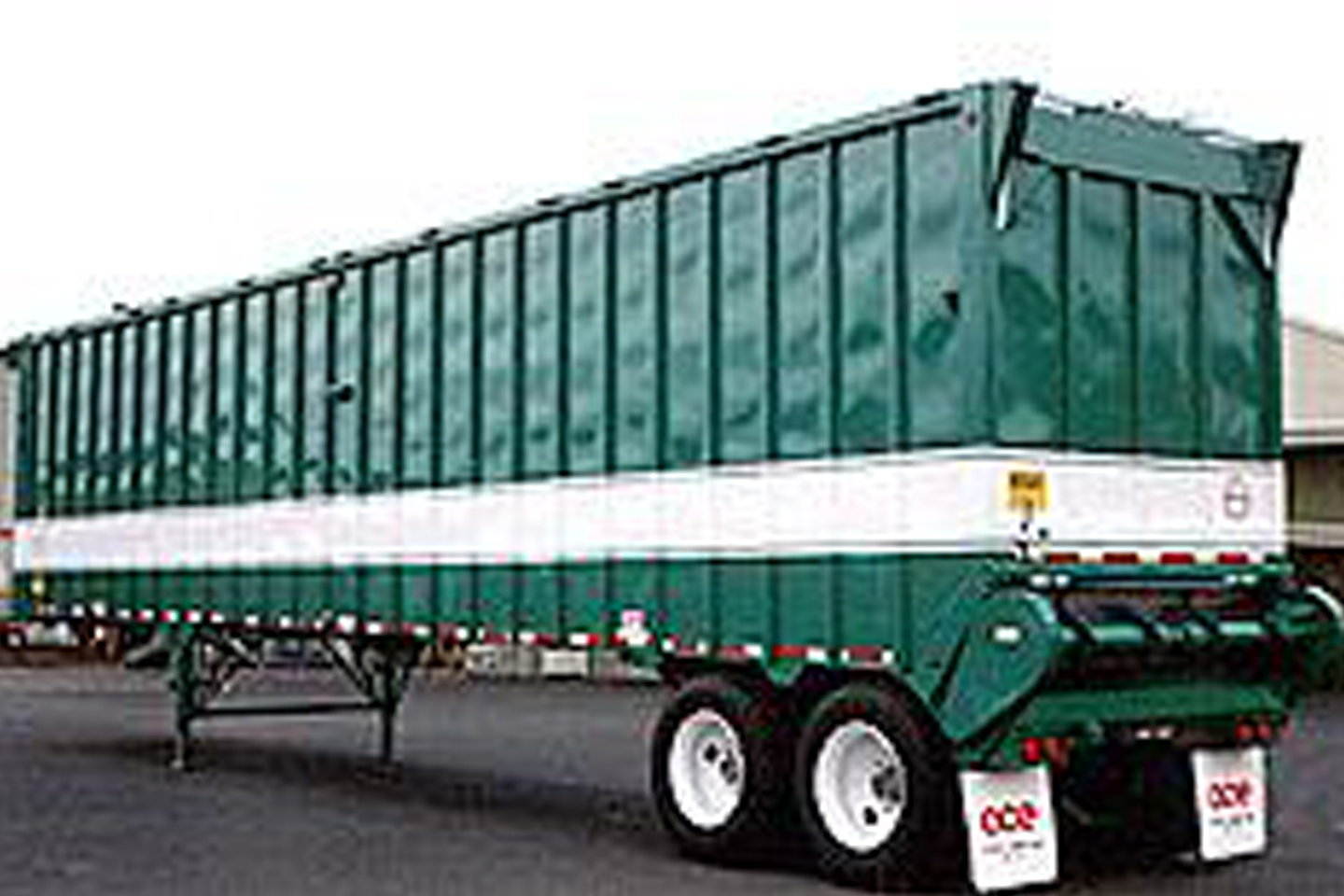 | | |
| --- | --- |
| LENGTH: | 45'-0" |
| WIDTH: | 96" overall |
| HEIGHT: | 13' 6" overall |
| WEIGHT: | 20,450 lbs. +/- 3% |
| KINGPIN: | 48" |
| COUPLER SECTION: | Steel fabricated assembly with steel approach plate and steel side plates |
| SUSPENSION: | Hutch H9700 weld-on undermount with 1 ¾" seats |
| SPRINGS: | 3-leaf steel |
| AXLES: | (2) 5" dia.22,500 lbs. capacity, 71.5" track |
| BRAKES: | 16.5" x 7" S-cam, 20,000 lbs. capacity |
| HUBS: | Cast steel with 10 studs on 11.25" BHC for hub pilot system |
| DRUMS: | 16.5" x 7" cast steel outboard mounted |
| WHEELS: | (8) 22.5 x 8.25 steel disc for hub pilot system |
| TIRES: | (8) 11R22.5 Highway tread 14 ply |
| BRAKE SYSTEM: | FMVSS 121 with anti-skid brakes |
| BACK-UP ALARM: | Included |
| SUPPORT LEGS: | 2-speed box, 120,000 lbs. static capacity with a 13.5" minimum ground clearance |
| CROSSMEMBERS: | On 20" centers |
| BUMPER: | Included in the rear frame |
| LIGHT BAR: | Steelpan for the tail lights |
| FRONT WALL: | 12 gauge steel with cropped corner design |
| SIDEWALL: | 14 gauge high strength steel |
| SIDEWALL POSTS: | Corrugations integral with the sidewall skin |
| UPPER RAIL: | 4" x 6" ASTM A500 Grade B steel tube SVO451 Shuttlvan 1 Specifications |
| LOWER RAIL: | 10 gauge steel fabricated section |
| TOP REAR HEADER: | Steel tube 4" x 4." |
| REAR SILL: | Fabricated steel floor sill |
| REAR DOORS: | Top hinged 12 gauge steel with dog-leg type hinge and lock rod at the bottom edge that locks into both rear posts |
| WINDOWS: | (1) opening covered with expanded metal on the roadside of the front wall |
| REGISTRATION HOLDER: | Mounted onto the front wall on the roadside |
| LIGHTS AND WIRING: | FMVSS 108 system with LED (4) tail lights, triple I.D. lights, license light, (5) markers on each side of the top rail and the bottom rail, mid-turn signal, and a sealed harness system for long life and trouble-free connections |
| CONNECTIONS: | Air and electrical connections centered on the front wall in the front cross member |
| FLOOR: | (4) W78 chains, 156,000 lbs. capacity, with steel angle flight bars and wear strips under each chain full length of the trailer |
| DRIVE SYSTEM: | 2500 psi hydraulic system with gearboxes and motors, a rear-drive roller is driven from both sides for maximum torque and even distribution of the load |
| LIDS: | Nylon roll-over tarp system with detachable crank and (5) ratchet straps |
| UPPER CROSSMEMBER: | (1) steel tube section mounted in the middle and pinned at both ends |
| LID LIFTER: | Optional |
| PAINT: | White polyurethane enamel |
| SPLASH GUARDS: | White anti-sail |
Steel Moving Floor Trailer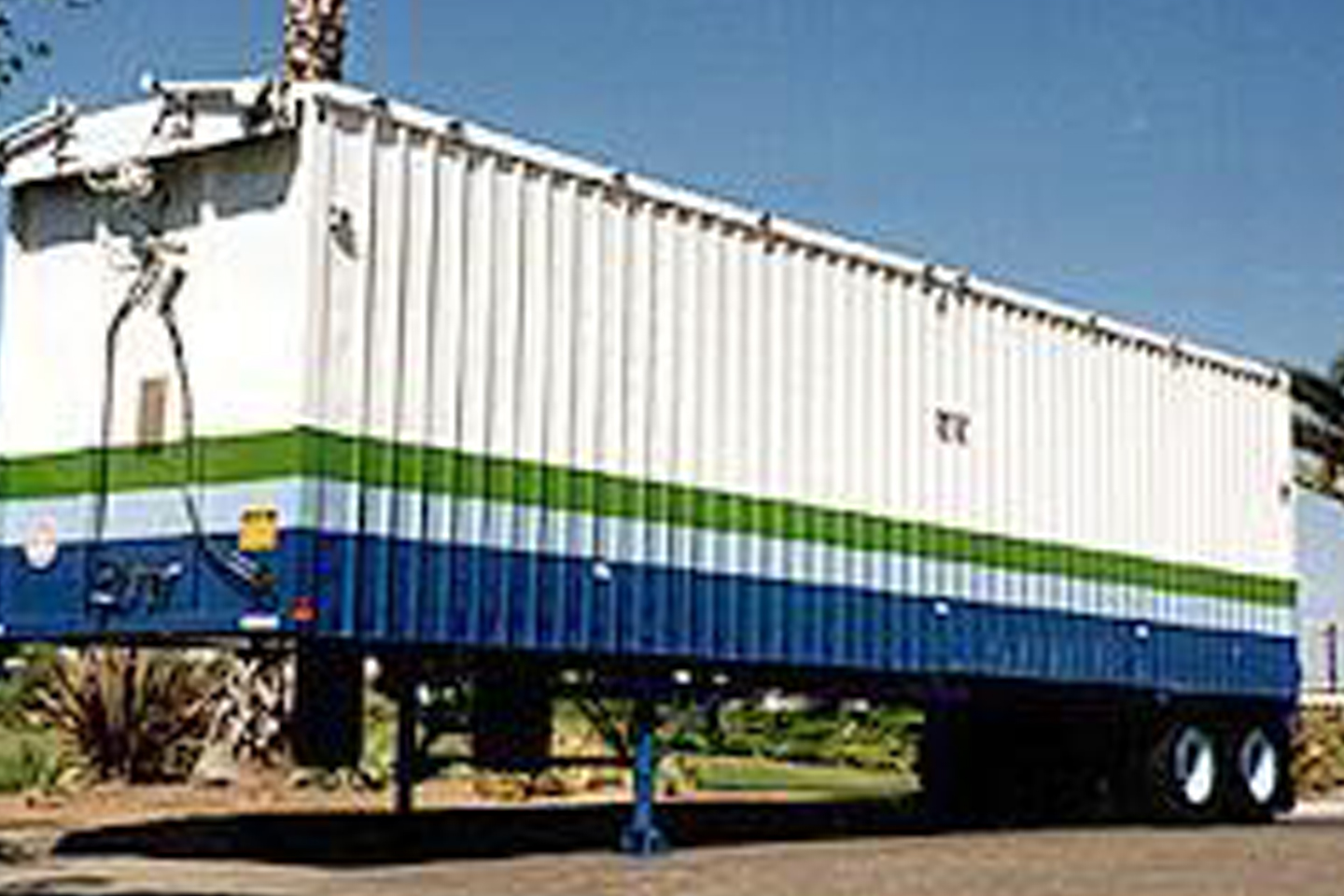 Steel Moving Floor Trailer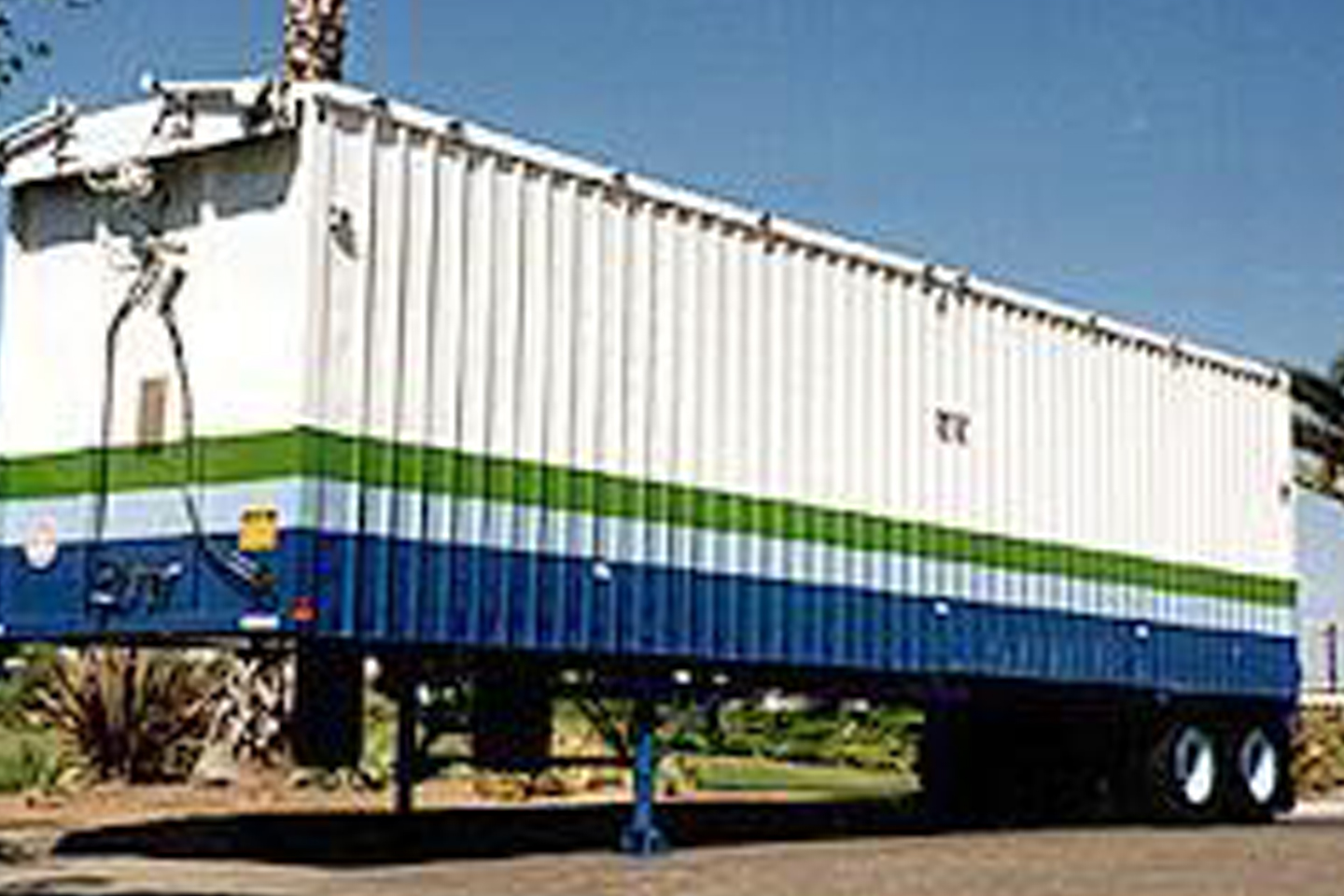 | | |
| --- | --- |
| LENGTH: | 45'-0" |
| WIDTH: | 102" overall |
| HEIGHT: | 13'-4" overall |
| WEIGHT: | 17,200 lbs. +/- 3% |
| KINGPIN: | 36" |
| COUPLER SECTION: | Steel fabricated assembly with steel approach plate and steel side plates |
| SUSPENSION: | Hutch H9700 weld-on undermount with 1 ¾" seats |
| SPRINGS: | 3-leaf steel |
| AXLES: | (2) 5" dia.22,500 lbs. capacity, 77.5" track |
| BRAKES: | 16.5" x 7" S-cam, 20,000 lbs. capacity |
| HUBS: | Cast steel with 10 studs on 11.25" BHC for hub pilot system |
| DRUMS: | 16.5" x 7" outboard Centrifuse |
| WHEELS: | (8) 22.5 x 8.25 aluminum disc, machine finish, hub pilot |
| TIRES: | (8) 11R22.5 Highway tread 14 ply |
| BRAKE SYSTEM: | FMVSS 121 with anti-skid brakes |
| BACK-UP ALARM: | Included |
| SUPPORT LEGS: | 2-speed box, 120,000 lbs. static capacity with a 13.5" minimum ground clearance |
| CROSSMEMBERS: | Aluminum with end clips on 14.5" centers in the bay area and 12" centers in the front and rear subframe areas |
| BUMPER: | Included in the rear frame |
| LIGHT BAR: | .190" aluminum pan for the tail lights |
| FRONT WALL: | Cropped corner design |
| SIDEWALL: | .125" aluminum sidewall sheet riveted to the posts and rails with 3/16" stem and collar type fasteners |
| SIDEWALL POSTS: | 1.5" deep 6061-T6 aluminum extrusion hat section |
| LINER: | None |
| DIVIDER: | None |
| UPPER RAIL: | Aluminum self-cleaning shape, one-piece, 6061-T6 extrusion |
| LOWER RAIL: | Aluminum, one-piece, 6061-T6 extrusion |
| TOP REAR HEADER: | Steel tube 4" x 4." |
| REAR SILL: | (1) opening covered with expanded metal on the roadside of the front wall |
| REAR DOORS: | ¾" ply metal doors, galvanized inside panel, prepainted white exterior panel, double lock rods, and 5-hinges per door, each door is reinforced with (2) vertical aluminum posts |
| WINDOW: | (1) opening covered with expanded metal on the roadside of the front wall |
| REGISTRATION HOLDER: | Mounted onto the front wall on the roadside |
| LIGHTS AND WIRING: | FMVSS 108 system with LED (4) tail lights, triple I.D. lights, license light, (5) markers on each side of the top rail and the bottom rail, mid-turn signal, and a sealed harness system for long life and trouble-free connections |
| CONNECTIONS: | Air and electrical connections centered on the front wall in the front cross member |
| MOVING FLOOR: | Moving floor for transfer station service includes bearings on each cross member and 1" hydraulic lines for pressure and return |
| LIDS: | Optional |
| CROSSMEMBER: | (1) steel tube section mounted in the middle and pinned at both ends |
| LID LIFTER: | Optional |
| PAINT: | white polyurethane enamel |
| SPLASH GUARDS: | White anti-sail |
Solid Waste Transfer Trailer / Moving Floor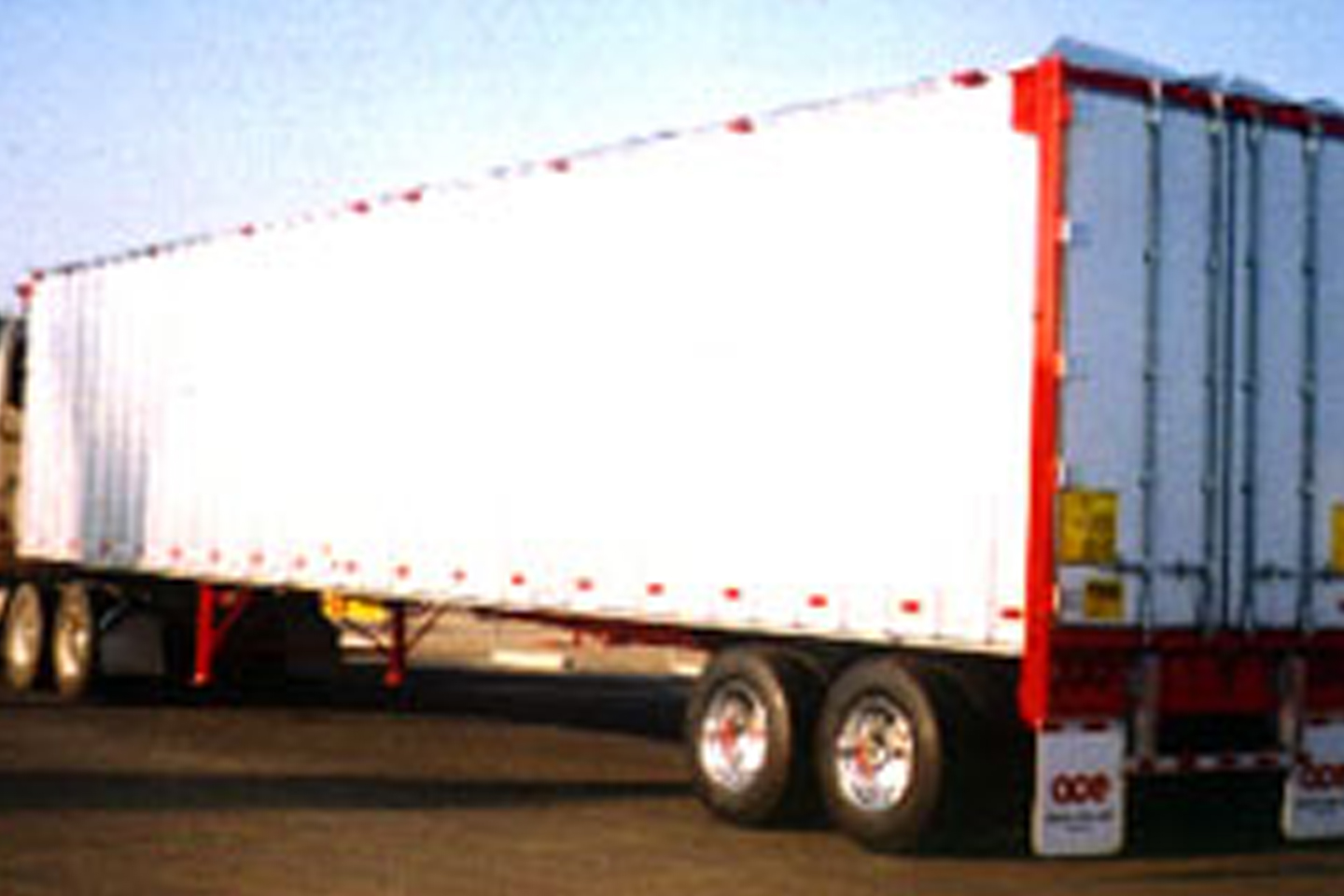 Solid Waste Transfer Trailer/ Moving Floor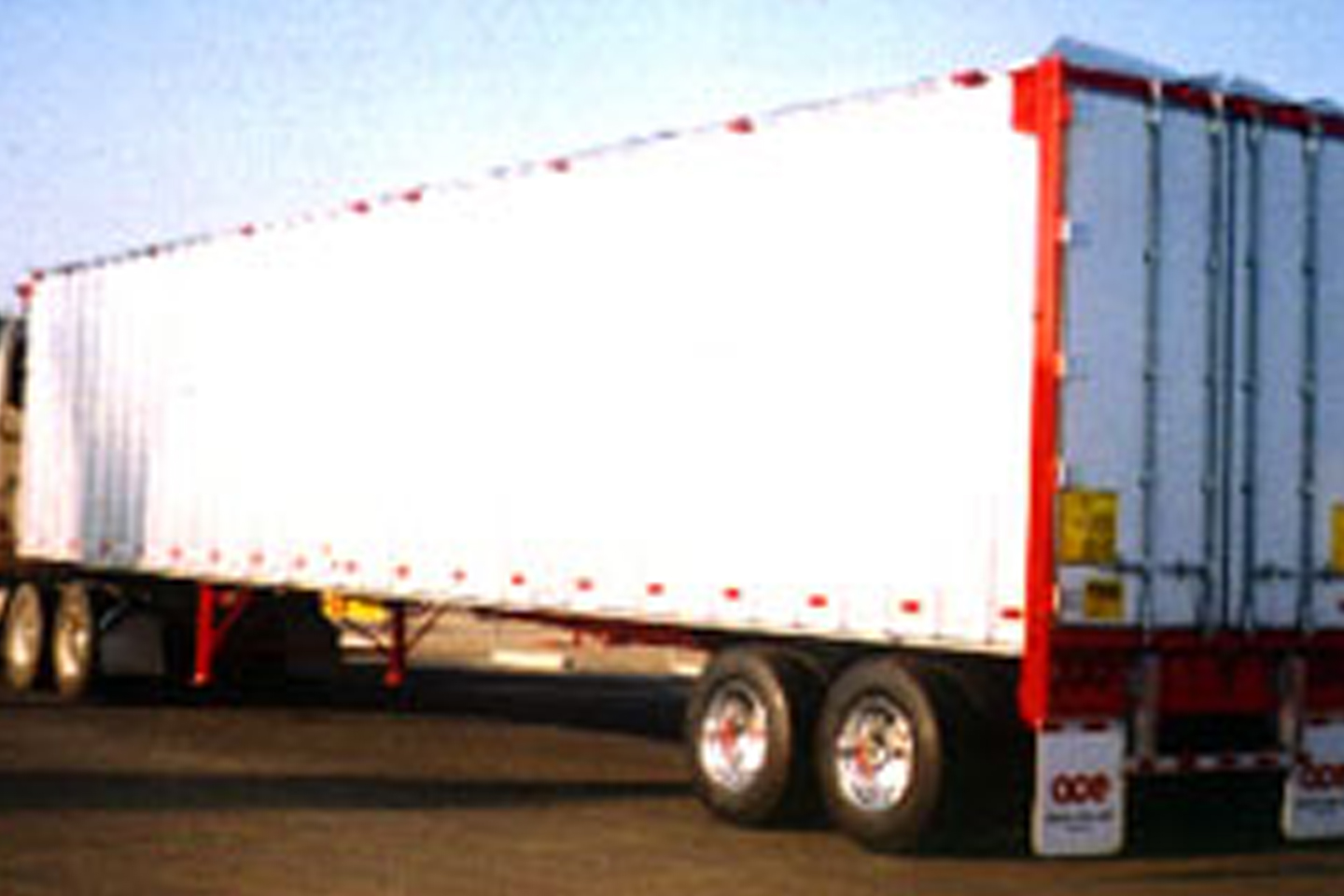 | | |
| --- | --- |
| LENGTH | 48'-0" |
| WIDTH | 102" overall |
| HEIGHT | 13'-4" overall |
| WEIGHT | 15,550 lbs. +/- 3% |
| KINGPIN | 48" |
| COUPLER SECTION: | Aluminum fabricated assembly with aluminum approach plate and aluminum side plates |
| SUSPENSION | Hutch H9700 bolt-on undermount with 1 ¾" seats |
| SPRINGS | 3-leaf steel |
| AXLES | (2) 5" dia.22,500 lbs. capacity, 77.5" track |
| BRAKES | 16.5" x 7" S-cam, 20,000 lbs. capacity |
| HUBS | Cast steel with 10 studs on 11.25" BHC for hub pilot system |
| DRUMS | 16.5" x 7" outboard Centrifuse |
| WHEELS | (8) 22.5 x 8.25 aluminum disc, machine finish, hub pilot |
| TIRES | (8) 11R22.5 Highway tread 14 ply |
| BRAKE SYSTEM | FMVSS 121 with anti-skid brakes |
| BACK-UP ALARM | Included |
| SUPPORT LEGS: | 2-speed box, 120,000 lbs. static capacity with a 13.5" minimum ground clearance |
| CROSSMEMBERS: | Aluminum with end clips on 14.5" centers in the bay area and 12" centers in the front and rear subframe areas |
| BUMPER | Included in the rear frame |
| LIGHT BAR | Steel pan for the tail lights |
| FRONTWALL | Cropped corner design |
| SIDEWALL | 18 gauge T304-2B stainless steel sidewall sheet riveted to the posts and rails with 3/16" stem and collar type fasteners |
| SIDEWALL POSTS | 1.5" deep 6061-T6 aluminum extrusion hat section |
| UPPER RAIL | Aluminum self-cleaning shape, one piece, 6061-T6 extrusion |
| LOWER RAIL | Aluminum, one piece, 6061-T6 extrusion |
| TOP REAR HEADER | Steel tube 4" x 4" |
| REAR SILL | Fabricated steel floor sill |
| REAR DOORS: | ¾" plymetal doors, galvanized inside panel, prepainted white exterior panel, double lock rods and 5-hinges per door, each door is reinforced with (2) vertical aluminum posts |
| WINDOW | (1) opening covered with expanded metal on the roadside of the front wall |
| REGISTRATION HOLDER | Mounted onto the front wall on the roadside |
| LIGHTS AND WIRING: | FMVSS 108 system with LED (4) tail lights, triple I.D. lights, license light, (5) markers on each side of the top rail and the bottom rail, mid-turn signal and a sealed harness system for long life and trouble free connections |
| CONNECTIONS: | Air and electrical connections centered on the front wall in the front crossmember |
| MOVING FLOOR: | Moving floor for transfer station service, includes bearings on each crossmember and 1" hydraulic lines for pressure and return |
| LIDS | Optional |
| UPPER CROSSMEMBER | (1) steel tube section mounted in the middle and pinned at both ends |
| LID LIFTER | Optional |
| PAINT | White polyurethane enamel |
| SPLASH GUARDS | White anti-sail |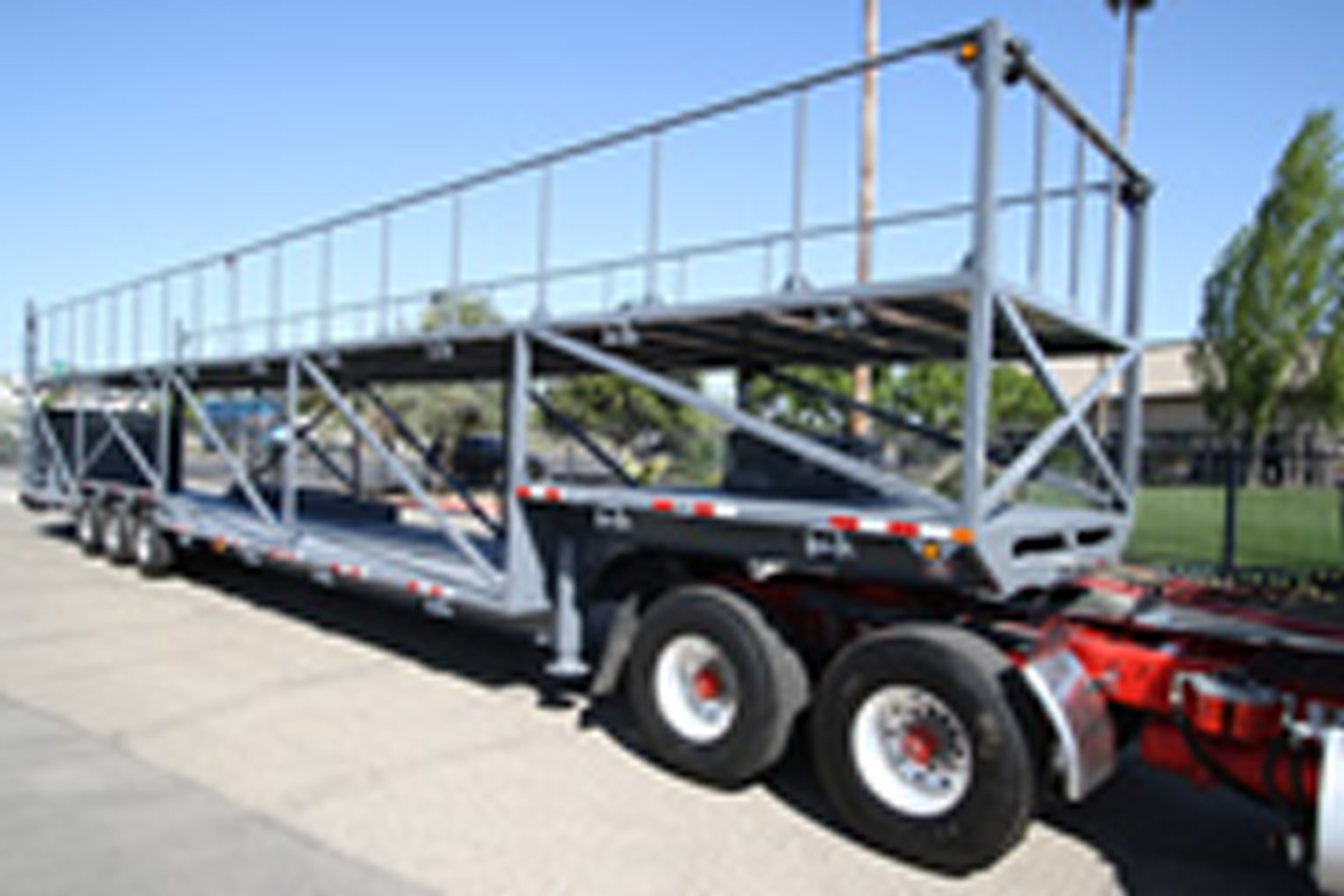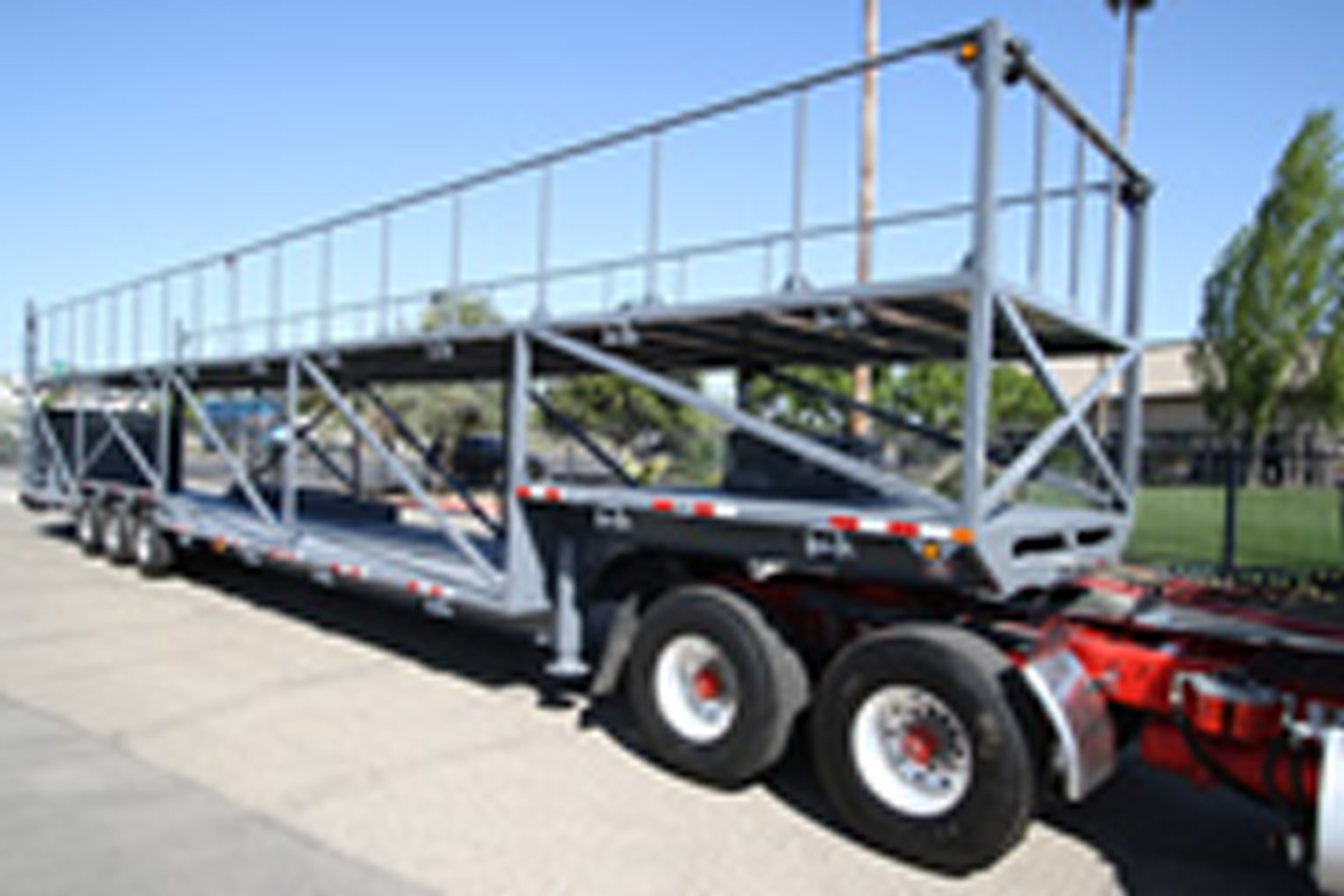 Measurements, clearance, and dimensions are approximate and describe a standard trailer

Drawing is not to scale.

Weights, if shown, are typical and will vary.

All specifications, illustrations, and information contained herein are based on the latest information available at the time of publication. American Carrier Equipment reserves the right to make any changes without notice or obligation.
We warrant this product for one year from the date of delivery to be free from defects in material and workmanship; also that it will perform its intended job satisfactorily when under normal use and service. Our responsibility is limited to making good at our facility by repair or replacement of any part which upon our examination is found to be defective in its construction or application. All freight charges are for our customers' accounts. All vendor parts carry their own warranty.